COMPANY INFORMATION
Mailing Address:
Eric Cortina Collection
23411 Aliso Viejo, Pkwy., K132
Aliso Viejo, CA 92656
Telephone: (949) 581-9678
FAX: (949) 581-9678
E-mail Contact:
SHOWROOM INFORMATION
Eric Cortina Collection
AmericasMart
Building One
Showroom 20E6
Atlanta, GA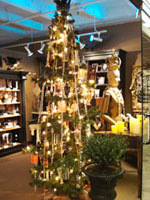 COMPANY PROFILE
Eric Cortina Collection
Eric Cortina's fascination with Christmas began at an early age. He would trim his bedroom all year round with Christmas lights and ornaments which became his favorite toys. These childhood memories inspired him to create his own collection of ornaments which he began to produce in 2003.
Traveling abroad as Creative Director at Roger's Gardens in Newport Beach, Eric had the opportunity to experience the spectrum of holiday merchandise being offered. Desiring to create his own orginal line of ornaments he began to look for a factory to produce his designs. His search ended with a family owned factory in Poland which shared his passion for unique ornaments and had an interest in trying his new ideas. This collaboration allowed Eric to translate his vision of Christmas into a collection of glass ornaments filled with European tradition.
Eric's goal is to create heirloom ornaments that people will want to pass down for generations. Designs are based on symbols or icons of Christmas, or are inspired from antiques or flee market finds. His use of multi-molds for his designs produce ornaments with more realism and dimension than those found in single molded ornaments. His approach to use tasteful embellishment, and more emphasis on shape and scale has created ornaments that stand out from others on the tree.
His additional interest in religious art lead to the creation of his wooden Santos collection. These saint figures are based on vintage pieces that were used in processionals or in private chapels. The Santos were dressed in different costumes for each of the holidays or feast days. Each figure of his collection is hand carved in the Philippines and then sent to Eric's studio where he does the final custom paint and finish. Other wooden pieces include life-size crowns and angel wings.
In 2007 Eric's collection further broadened with the addition of metal designs which can decorate the home year round. His ex voto hearts, which were historically used in Europe as offerings of gratitude or devotion in churches, are the perfect gift for home or to commemorate an event or wedding. His Memento boxes, which can be filled with pictures or small personal objects of meaning can be displayed on walls or placed on tables.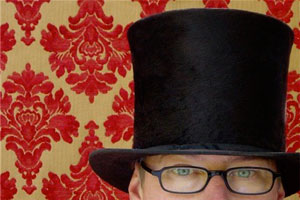 DISPLAY CONCEPTS